Cover story from the "Orange County Register" Dec. 5, 1999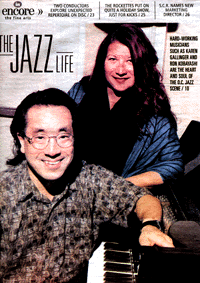 Karen Gallinger and Ron Kobayashi are two of Orange County's most gallant jazz warriors, playing and singing their hearts out for audiences that are sometimes ignorant, unappreciative or worse. Gallinger plays some 180 dates a year, Kobayashi does even more - about 240. The money's not great, and they see performers with far less talent getting rich. Funny thing, though: They wouldn't have it any other way.
Ron Kobayashi is the leader for sure, but when he speaks of The Trio, it's clearly with capital letters. It's not merely a musical group, but more like a living, breathing being. Kobayashi is on piano, Steve Dixon on drums. The bassist has one of the reat names in all of jazz, Baba Elefante. ("his real name is Calvin, but his brother couldn't pronounce the word 'baby' so he said 'Baba,'" Kobayashi chuckled.).
Formed around 1993, The Trio is the fulfillment of a dream for Kobayashi, 37, of Fullerton. As the saying goes, it's one of the hardest-working bands in show business.
And he added, "I know it's a clich, but we're like brothers. Even if there wasn't the music thing, I'd hang out with these guys. "I'd always wanted to do a trio format," said the classically trained Kobayashi. "My big influence when I was growing up was the Oscar Peterson Trio."
You've heard of rhythm and blues, but rhythm and jazz? This is what Kobayashi and company do.
He describes it as "jazz harmonies and improvisation, with the rhythmic aspects of R&B." You'll hear them at Steamers and Kikuya and other O.C. jazz hot spots, playing before a loyal and faithful following.
Kobayashi was born in Los Angeles, moving to Fullerton at age 1. His dad, who was in aerospace, was originally from Hawaii. There, he played sax in various swing and bebop bands. (Mom Kobayashi's instrument was the ukulele.) Thus, there was always music in the house - "My dad said he used to rock me to sleep to Count Basie's 'April In Paris.'
Kobayashi's first instrument was the accordion, acquired after a guy came to the door peddling lessons. At 9, he started playing piano, taking instruction from noted north Orange County teacher Dorothy Neece. In all, there were about eight years of full-fledged classical piano instruction.
But he said he always gravitated toward jazz.
At Buena Park High School, Kobayashi taught other students about improvisation and conducted the band."That was kind of when I realized that jazz was my calling," he said, though he never imagined making a living with music at that point Kobayashi went to California State University, Fullerton, majoring in communications and political science, "always with music in back of my mind." For his political-science internship, he went to work for the Orange County Human Relations Commission, and it was in his office there that the epiphany occurred. "I had this big poster of John Coltrane," he remembered. "I looked at it every day.
Then, one day it just snapped.
I kind of thought, 'That's what I ought to be doing.' I knew that I really had to give it a shot." And that he did, gigging around with various rock and lounge-type bands, playing restaurants, weddings and places like the Hotel Laguna. And then jazz all the time."I'm blessed to have been making a living at music since 1982," he said. "And The Trio - knock on wood - has been playing an average of two to four nights a week."
The band has two CDs on Tustin-based Carpet Cat Records, "The Ron Kobayashi Trio" and "Exotic Places," both filled with invigorating originals by himself and Elefante. He said he helped start Carpet Cat "as a way to release our own stuff and several other Orange County artists' material. It's a means to help musicians who have a hard time getting a record deal." There are now seven releases on Carpet Cat.
But there could be much more of everything, and Kobayashi knows it. "I wish we could play more festivals, get to the next level of visibility," he said. "We're looking for a bigger one, but it's tough, because we don't get much air play.
We really don't fit in with a 'format.' We're not totally straight-ahead, and we're not 'smooth jazz,' either. The majority of our music has a funkier edge, so we don't fit into that niche." "I know I could make more money by playing the 'smooth' stuff, but ultimately, I wouldn't be happy doing it. It mutes you as an artist." And, he added, without naming names: "I hear people on piano and other instruments, and I wonder to myself.
I've been doing this for so many years, and they don't really seem to have the goods. Yet they're perhaps making millions of dollars." But meanwhile, like Gallinger, Kobayashi will find contentment somewhere besides the bank.
He usually finds it on the bandstand, where his biggest thrill is when he and the group really interact with an audience. "I want them to experience something, to connect with us emotionally," he said. "The worst-possible scenario is for them not to react one way or another, or for them not to listen at all.
Even if we do something over the edge and dissonant, and the audience gets an uncomfortable feeling, at least I've produced a reaction. "I'm very gratified that people are willing to come out and hear my original compositions," he said. "That in itself is enough of a reward to keep doing it. Even if just one person in the club says they enjoyed or came to hear a tune I wrote ...Wow!"