THE RON KOBAYASHI TRIO consists of three uniquely talented musicians from the Southern California area. Each musician brings with him years of diverse musical experiences.

Pianist and leader Ron Kobayashi has performed with Mel Torme, Margaret Whiting, Eric Marienthal, Phil Upchurch, Teddy Edwards, Tim Weisberg, Kenny Burrell, Paula Kelly Jr., Herb Jeffries, Peter White and "The Modernaires," He was a featured performer on the internationally distributed "Johnny Yune" television show, and has been featured on the CBS Evening News with Dan Rather. In 1992, Ron performed for President Bill Clinton and has recorded as a solo artist for the Casierra Record label.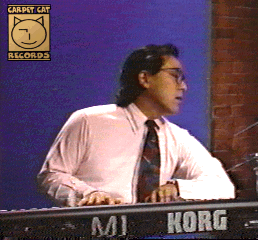 THE RON KOBAYASHI TRIO Ron and his band have shared the stage with such notable artists as David Benoit, Eddie Palmieri, Cirque Du Soleil, Strunz and Farah and The Fabulous Thunderbirds.
The Trio has played numerous jazz festivals including The San Bernardino Music Festival, The Orange County Art and Jazz Festival, The Yorba Linda Arts Festival, The Dana Point Jazz Festival, The Mission Viejo Music Festival and the Playboy Jazz Summerfest in Pasadena. They have also worked in Laughlin, Nevada; Las Vegas, Nevada; and Orlando, Florida.
In 2002, Ron served as Music Director for the 10th Annual Hollywood Diversity Awards, where such stars as "The Rock," Michael Clarke Duncan and the cast of NBC's "West Wing" were honored.

Tracks from the Trio's discs are currently being used by DMX Music in retail and hotel chains across the country.
"The latest Ron Kobayashi Trio CD "No Preservatives" is currently being played on radio stations throughout the nation. Their earlier disc "Exotic Places" made the "Top 30 Albums" in 1998 on radio station KSBR. In 1996, the Trio was voted "Best Jazz Group in Orange County" by readers of the Orange County Weekly Magazine.
What are the Critics saying?
"If you define jazz...as spontaneity, emotional expression and communication among musicians, you won't find anything better than "No Preservatives," raves the Orange County Register.
The LA Jazz Scene calls the disc a "five star session."